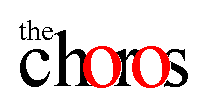 The choros in ancient tragedy represented the people.
In oudeis the choros will represent the audience
who follow the play on computer screens. Sounds of voices
singing ´a capella´ in Greek will be produced by instructions sent
by the virtual audience during the play. This sum of voices will sound
like a chorus, each voice being ´triggered´ by someone over the net.
With the choros, an interactive aspect was added to the oudeis concept, where the audience now can participate in the performance.